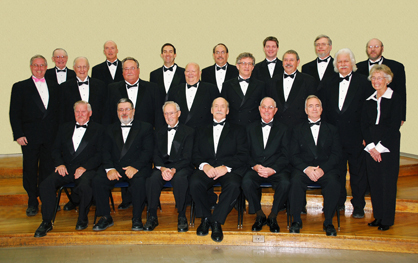 Norton Male Chorus, A Brief History
Organized as the Buick Male Chorus in 1921, Under the auspices of the Buick factory. Dr W.W.Norton was asked to conduct the chorus. In 1923 the chorus was reorganized as the I.M.A. Glee Club under the sponsorship of the Industrial Mutual Association. This affiliation lasted until 1939 when the chorus became an independent organization , the Norton Male Chorus, taking the name of its founder and director. Dr. Norton continued as director of the chorus until 1951 when he took a position at the College of the Pacific in Stockton California.
Over the years we have sung in Ann Arbor, Battle Creek, Chicago, Cicero, Cleveland, Detroit, Erie, Findlay, Flint, Fond du Lac, Grand Rapids, Indianapolis, Kalamazoo, Kitchner, Lansing, Ludington, Mansfield, Marquette, Midland, Milwaukee, Minneapolis, Muskegon, New York City, Philadelphia, Pontiac, Port Huron, South Bend, Toronto, Winnipeg and probably a dozen other places we have forgotten about. In Ann Arbor we had a tenor in "drag", we had an operatic thing with soprano obbligato (thus the tenor in drag). The announcer in Cleveland forgot we were doing two numbers and introduced the mayor who did his political/welcome speech while we waited on the risers. We arrived in Fond du Lac at 2:00am and we and the host chorus did an impromptu concert on the train platform. Singing the "Creation" in Minneapolis the electrician mis-read his instructions and turned out ALL the lights, 1000 men came in on cue although they couldn't see the conductor, nor anything else for that matter. The New York City engagement was for the 1964 World's Fair, it was on Long Island, outdoors, and too close to the airport (the jets were not in the same key). Same thing happened at a concert in Pontiac. At an earlier engagement in New York, the hotel would not allow our one black singer to stay at their hotel, legend has it that the entire chorus went to another, more liberal minded inn. A Toronto newspaper singled out our chorus, in their article about the concert, citing the novelty number we sang (Maiden Fair). There are many other experiences at other concerts, in other cities that would bear repeating, but we haven't the time for more.
Although we have been in existence since 1921, the Chorus has had only four directors. Dr. Norton, 1921 through 1950; Arthur McCombie, 1951 through 1980; C.L. Bergman, 1980 through 1993; and Daniel Hill, 1994 through the present.The latter three directors had all been members of the Chorus prior to their acceptance of the directorship.
The chorus is always looking for men who like to sing.